Local listings are an integral part of a franchise marketing strategy. Managing them at scale comes with its own unique set of challenges. You may find yourself asking, who should own and manage local listings – the franchisor or franchisees? How can you give them the autonomy to create rich, local content without sacrificing brand quality standards? How can you set franchisees up for local marketing success?
These are just a couple of the questions we're often asked by enterprise franchise brand marketers in search of a more effective way to manage local listings at scale. In this post, you'll find more commonly asked questions with their answers. We'll also provide you with links to resources you can use to help bolster your listings management and franchise marketing strategy.
What is a local listing? Why is it important in SEO?
Local listings are often the first point of contact between your brand and a prospective local customer searching for products and services like yours.
One of the best-known and most impactful types of listing is your Google Business Listing. When Google determines that a query has local intent, it displays the business listings of the locations it believes best meets that searcher's need in a Map Pack (or Local Pack). Many searchers find enough information in these business listings to convert to their next step. This may include visiting the location in person, booking an appointment online, calling to book a service call, etc. In fact, the ratio of those who will see your listing versus those who will click through for more information is about 60:1.
Local listings are an essential element of your franchise's local marketing strategy. Each one is another touchpoint that can rank in search and serves as a discovery and conversion tool. These listings are also available for franchises to claim and manage on Bing, Yelp, Facebook, TripAdvisor, and many other broad and niche-specific websites.
Why does Google change listings information after we already shared the correct address, hours, or phone number in our Google Business Profile?
The information your Google Business Profile owner shares is just one of many sources that Google uses to determine whether key business data is correct. Google's mission is to ensure searchers are met with the most accurate, up-to-date information. It looks to business directories, data aggregators, other websites and even suggestions from users to verify – or even correct – what the owner has input.
Let's say one of your locations claims it is open from 10am-4pm on Saturdays, for example. A searcher visits your location on a Saturday to find it's not open. The searcher then suggests to Google your Saturday hours are incorrect. Google can see that the location hasn't updated its hours in three years. So, it trusts the searcher's suggestion and changes the hours to indicate that the location is closed on Saturdays.
What they may not know is that the store was closed that particular Saturday due to a plumbing emergency.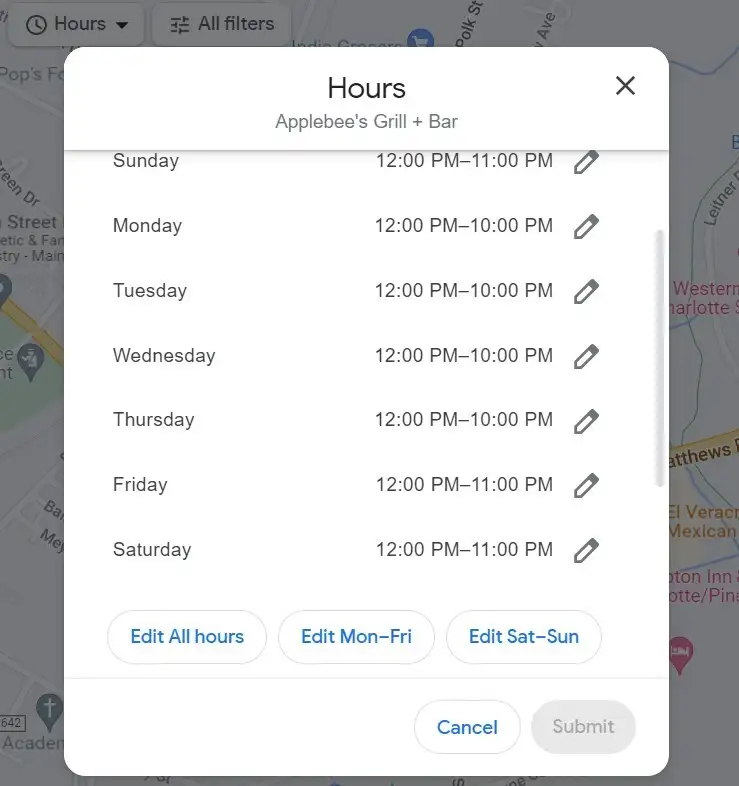 This is why automating franchise listings management is so essential. This owner may not notice for weeks or even months that their hours for Saturday are displaying incorrectly. They may notice a slump in business but not understand the cause. Quickly spot and correct these inaccuracies so any disruption to the business is minimal with ongoing listings management.
It's also important that each location verifies its holiday hours of operation and uses temporary closures and special hours correctly. See 5 Tips to Protect Your Google Business Profile Hours From Unwanted Updates to learn more.
What happens when a wide swath of franchise locations are forced to close due to weather, natural disaster, pandemic or health-related issues, etc.?
Brands using Rio SEO's Local Listings Management solution do not need to update each affected location individually. A listings coordinator will update your hours in our central platform on your behalf (if this level of support is preferred). Changes will display in near real-time (for API connections), or via ad hoc updates. Local managers and brand marketers can still publish updates when necessary but bulk support is built in at no additional cost.
Who should "own" and manage listings, the brand or the franchisee?
This is perhaps one of the most common questions for franchise owners and franchisees. Almost without exception, you will want the brand to own the listings.
Here's why:
Franchise locations can be bought and sold, and you don't want the ownership of a location's brand presence lost in the shuffle or, worse, held as the personal property of a franchisee or manager who has left the business.

Ownership conflicts

can be difficult and time-consuming to resolve.

Marketing styles, literacy levels, and more will all vary widely across the franchise. It's essential to bake brand standards into the marketing services you provide franchisees to protect the franchise as a whole.

Local customer experience should not vary dramatically from location to location. Owning your franchise's local listings enables you to put technology and workflows in place that both empower local managers to create unique local content and allow the brand to set publishing permissions and distribute brand-wide offers, promotions, and messaging to all locations (or a subset of your choice).
Managing all franchise listings from one central platform means you can provide local managers templates for Google Posts and local review responses, for example. You can push brand-wide customer communications to all location profiles and still give local managers access to publishing tools that enable them to share rich, locally-relevant events and offers to customers. It's a win-win.
How can we claim ownership of all franchise listings if we don't have all of the location data?
This is where having not only a technology solution but also a dedicated full-service support team comes in. No matter the state or volume of your location data, Rio SEO's experts will meet you where you are and help bring the necessary data together to claim all of your listings.
What website address (URL) should we use in our local listings?
Ideally, you'll send searchers to a local landing page, not the corporate website. Think in terms of the local customer experience. What are they most likely looking for when they visit a local listing? The features available on local listing platforms such as Google, Facebook, Yelp, etc. tell us that searchers are looking for things like:
Hours of operation

Directions to the location and the phone number

Photos and videos of that location

A description of the business and its products or services

Who owns or manages the location

Reviews that tell them about the experiences others are having at that location
Sending a customer to a generic corporate website isn't the best next step in their journey. Think of why you would click on the 'Website' button on a Google Business Profile. Perhaps:
You want to learn more about the specific products and services, menus, amenities or other qualities that location offers.

You have questions weren't answered in the listing.

You're in browsing mode and want to continue perusing the brand's offerings.
Local pages feed local consumers' need for more in-depth information and are the next logical step in the searcher's journey. And, when they're mobile-friendly and well-optimized, they help expand your brand's local presence and become another point of discovery that can rank on relevant local searches, too.
How can we use location data and marketing insights in our franchise marketing?
The quality and accessibility of location performance data available to the franchisor is critical. Incorporating local listing management for all franchisees into a central platform ensures that local managers and brand marketers can access local reporting.
At the brand level, our custom local reporting for franchises ensures you have a high-level overview of how locations rank and perform across the brand. You can identify outliers – top and lowest performers – and intervene or use these as use cases for other franchisees. You can see which locations are ranking in the top of their market and which may need local SEO improvements or the assistance of a PPC campaign to help boost their visibility in the most competitive shopping seasons.
You'll be able to see and analyze review management, as well, which is an important element of your overall brand reputation management strategy. The brand can provide templates for franchisees to customize and designate points of contact for specific types of review escalation. As the franchisor, you can ensure that each location is upholding its review management responsibilities or offer assistance. See Reputation Management: Expert Tips for Franchise Businesses to learn more.
Access to the queries and terms real local customers use to search for products and services like yours is a rich source of insight. Use local SEO data to improve your offerings and customer service, inform content marketing campaigns, develop new offers and events that meet evolving customer behaviors, and more.
Want to learn more? These additional resources may help: