New tool enables brands to customize the way their information appears across Apple apps
Rio SEO, the leading all-in-one local marketing platform proven to increase online visibility for enterprise brands, today announced an integration with Apple Business Connect API. This new integration enables Rio SEO to streamline local listings management for its multi-location clients by maintaining and quickly publishing critical business information and updates to the Apple Maps place cards and across Apple apps.
We created Business Connect to provide Apple users around the world with the most accurate information for places to eat, shop, travel, and more," said Eddy Cue, Apple's senior vice president of Services. "Apple Business Connect gives every business owner the tools they need to connect with customers more directly, and take more control over the way billions of people see and engage with their products and services every day.
Businesses can now seamlessly manage listing information at scale any time a change or update is needed, including the business' name, address, phone number, hours, website URL, and more. Updates ensure a seamless customer experience with the business the moment a customer finds them in search results. Business Connect also includes Showcases, a new feature in the Maps place card that helps businesses present customers with offers and incentives, like seasonal menu items, product discounts, and more.
From our own research, we've found 84% of U.S. consumers say they use Apple Maps to search for business information," said Joel Headley, VP of Product Management, Rio SEO. Recent research conducted by Rio SEO also shows that one-fifth of local consumers are unlikely to visit a business with incorrect or missing business information. "The new Apple Business Connect API will allow us to more effectively maintain accurate information on Apple Maps and across Apple apps, resulting in a more seamless experience for consumers and increased conversion opportunities for brands.
In addition to the ability to deliver up-to-date information to the Apple Maps place card, businesses will have access to data and insights on their listings through Business Connect.
Existing clients now have the ability to designate Rio SEO as vendor of record with Apple allowing for timely brand-verified updates to be published on the business' behalf. To learn more about the Apple Business Connect API or how your brand can get started with Local Listings through Rio SEO, visit rioseo.com/apple.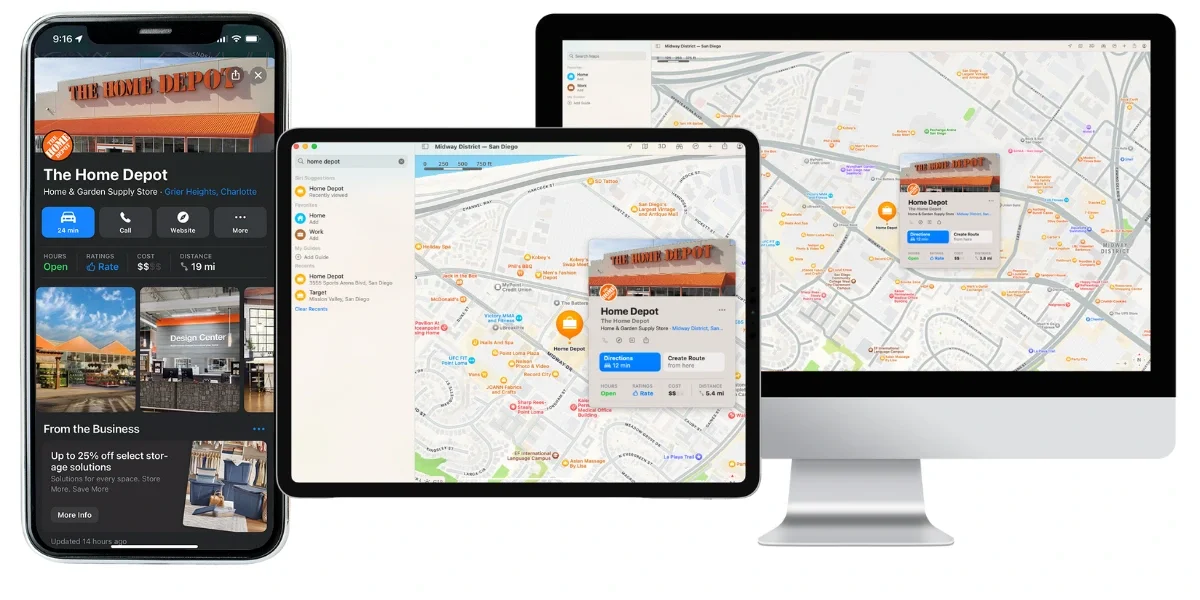 About Rio SEO
Rio SEO is the leading local marketing platform for enterprise brands. The Open Local Platform provides multi-location organizations with a comprehensive, seamlessly integrated suite of turnkey local marketing solutions proven to increase brand visibility across search engines, social networks, map applications, and more. The world's leading enterprise brands – retailers, restaurants, hospitality, financial services, healthcare, and more – rely on Rio SEO's innovative technology and local marketing expertise to drive motivated, measurable online traffic to websites and physical locations. Rio SEO is part of Forsta, a global leader in customer experience (CX), employee experience (EX) and market research (MR). The combined technologies of Forsta and Rio SEO enable brands to engage consumers throughout the entire customer journey from discovery to purchase to advocacy. For more information, visit rioseo.com.
About PG Forsta
PG Forsta provides the technology and expertise to help organizations get a deeper, more complete understanding of the experiences of their audiences. The company powers the HX (Human Experience) Platform – a comprehensive experience and research technology platform that breaks down the silos between CX (Customer Experience), Employee Experience (EX), Patient Experience (PX) and Market Research. PG Forsta serves a variety of industries, including healthcare, financial services, hospitality, market research, professional services, retail, and technology.
Media Contact
Meghan Witthaus
Communications Manager
meghan.witthaus@pressganey.com