Local consumer search behavior trends in Q1 2023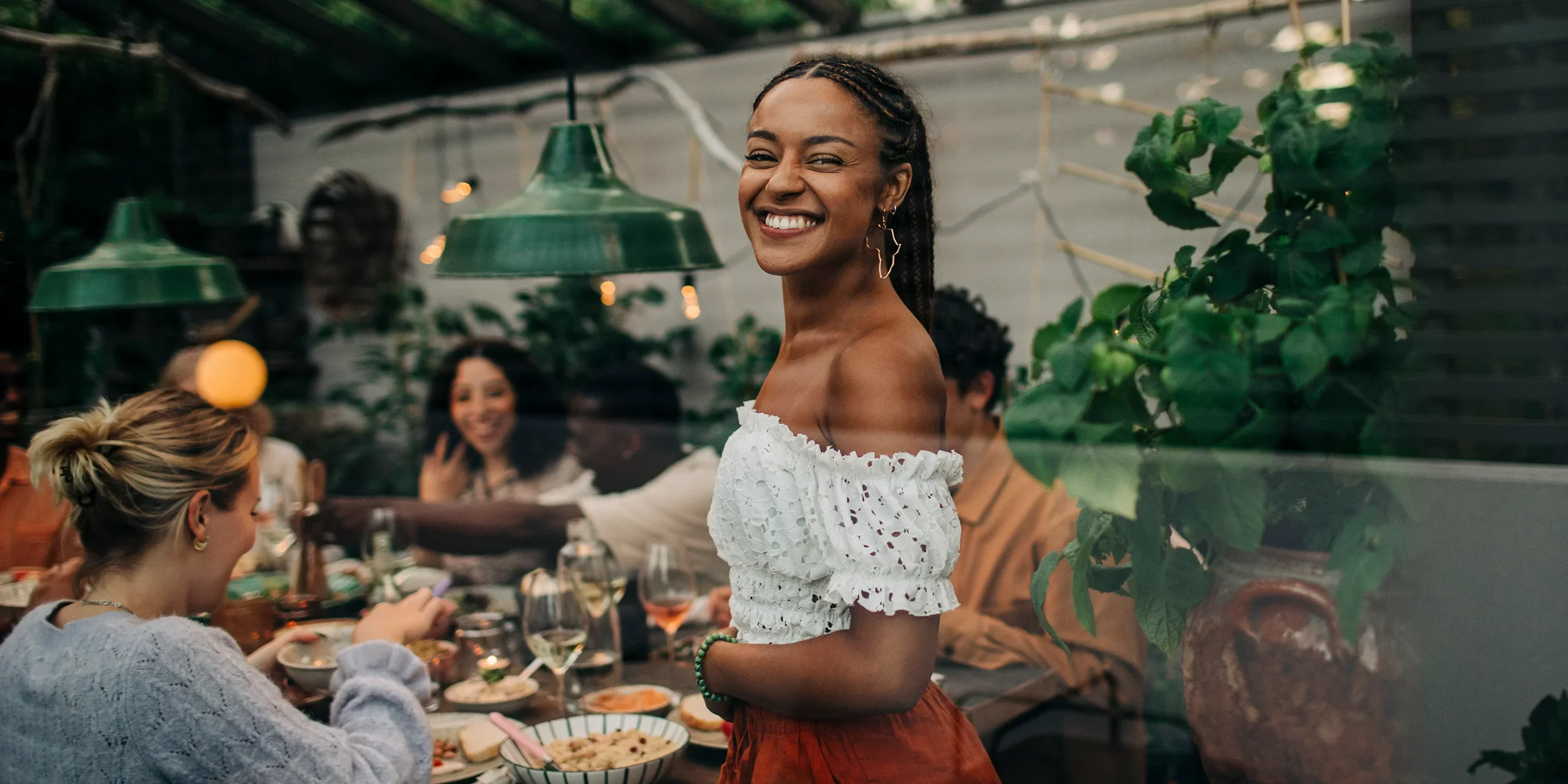 Each month from late 2020 to December 2022, our team aggregated and analyzed Google Business Profile (GBP) performance data from over 170,000 enterprise brand locations and shared the resulting local consumer search trends on our blog. For the purpose of this research, the term "enterprise" refers to businesses with 50 or more locations.
This blog post marks the first in our transition to quarterly insights. This shift allows us to share more impactful updates and, in turn, more meaningful insights.
In Q1 2023, we saw local search views, searches, and click volume decline on both a quarterly and annual basis, in every industry we evaluate. However, this reduction in search views and clicks doesn't necessarily spell trouble for brands and must be viewed through the lens of the pandemic impact.
The Omicron variant emerged in the U.S. late in 2021 and caused the largest global surge in COVID cases since the pandemic's start through the first months of 2022. Brands saw dramatic increases in local search interest, views, and conversions as business interruptions heightened consumers' informational needs.
It's also important to note that Google changed the way "views" metrics are calculated for brands in February 2023. Before that, every instance of a user viewing a Profile was counted, even if the same user viewed it multiple times within a day. However, the current approach measures views based on unique occurrences. For example, if a user views a Profile three times in a single day, it will now count as a single view.
Although this might result in a noticeable decrease in your view count, it offers your business additional transparency regarding the actual number of individuals viewing your local listings. This level of detail empowers your business to better understand customer behavior and interests, helping you improve engagement with potential customers.
Consider these factors as you review the local search data below and use it to benchmark your locations' performance.
Business services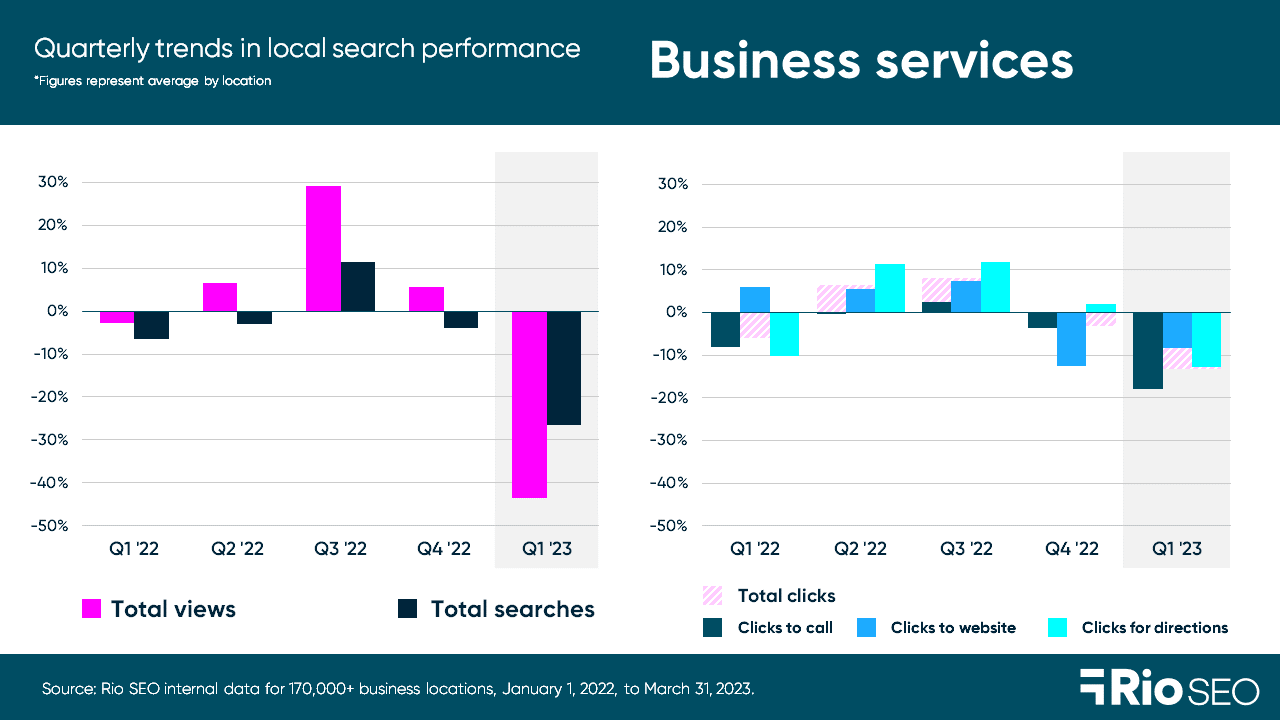 Total views were down 43.6% QoQ and 17.9% YoY in Q1 2023.
Total searches were down 26.5% QoQ and 23.6% YoY in Q1 2023.
Total clicks were down 13.2% QoQ and 3.1% YoY in Q1 2023.
Conversion actions fell across the board for business services brands in Q1 2023, quarterly and year-over-year. Clicks to call fell furthest of the three types of conversions from Google Business Profile listings with a 13.2% drop. Business services include a variety of brands, including storage facilities, postal and delivery services, fitness studios, IT companies, personal care services, etc., for the purpose of this research.
Since late last year, business services brands have been battling a tight labor market, rising unit labor costs, and increasing pressure for capital investments in automation to reduce costs.
Periods with slower inquiries and foot traffic are a great time to focus on preparing local listings and promotions for seasonal upswings, often in the third quarter of the year. See A complete guide to Local Listings for service businesses to learn more.
Financial services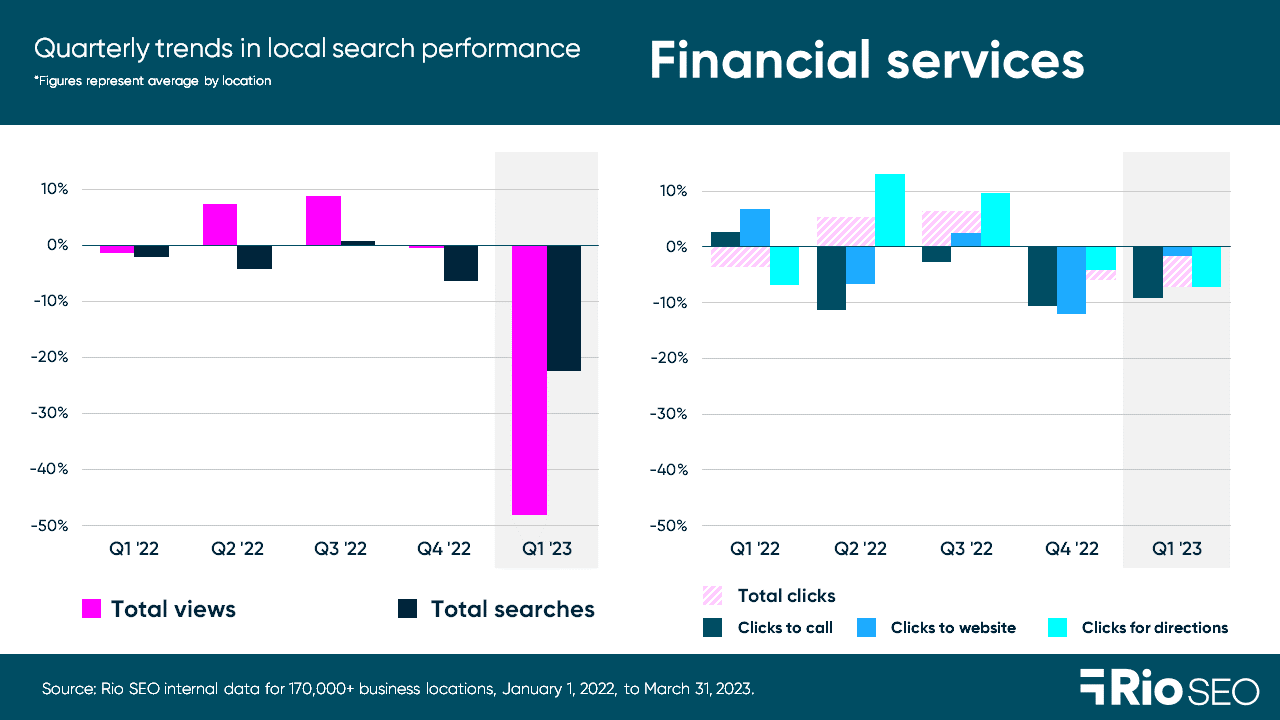 Total views were down 48.2% QoQ and 39.8% YoY in Q1 2023.
Total searches were down 22.4% QoQ and 29.9% YoY in Q1 2023.
Total clicks were down 7.2% QoQ and 2.1% YoY in Q1 2023
Large QoQ declines of 48.2% and 22.4% in total views and search volume didn't translate as harshly to conversion actions for financial services brands in Q1 2023. Clicks to call, visit the website, or get directions to a branch location or office were down to a lesser degree, each less than 10%.
Even as recession concerns receded, the collapse of Silicon Valley Bank brought fresh turmoil to the banking sector in the first quarter of the year. It was short-lived, however, and initial drops in stock prices recovered by the end of the quarter. The Federal Reserve raised rates twice, and inflation showed signs of slowing in Q1, as well.
Volatility is a way of life in banking and financial services, yet consumers expect a cohesive and intuitive online experience when they search for loan, mortgage, insurance, and other finance-related information.
Local reviews should be a top priority for brands in this sector, as consumer trust has historically been low, and reputation has been identified as an important factor for 47% of consumers seeking financial services. See these reputation management tips for healthcare brands to learn more.
Full-service restaurants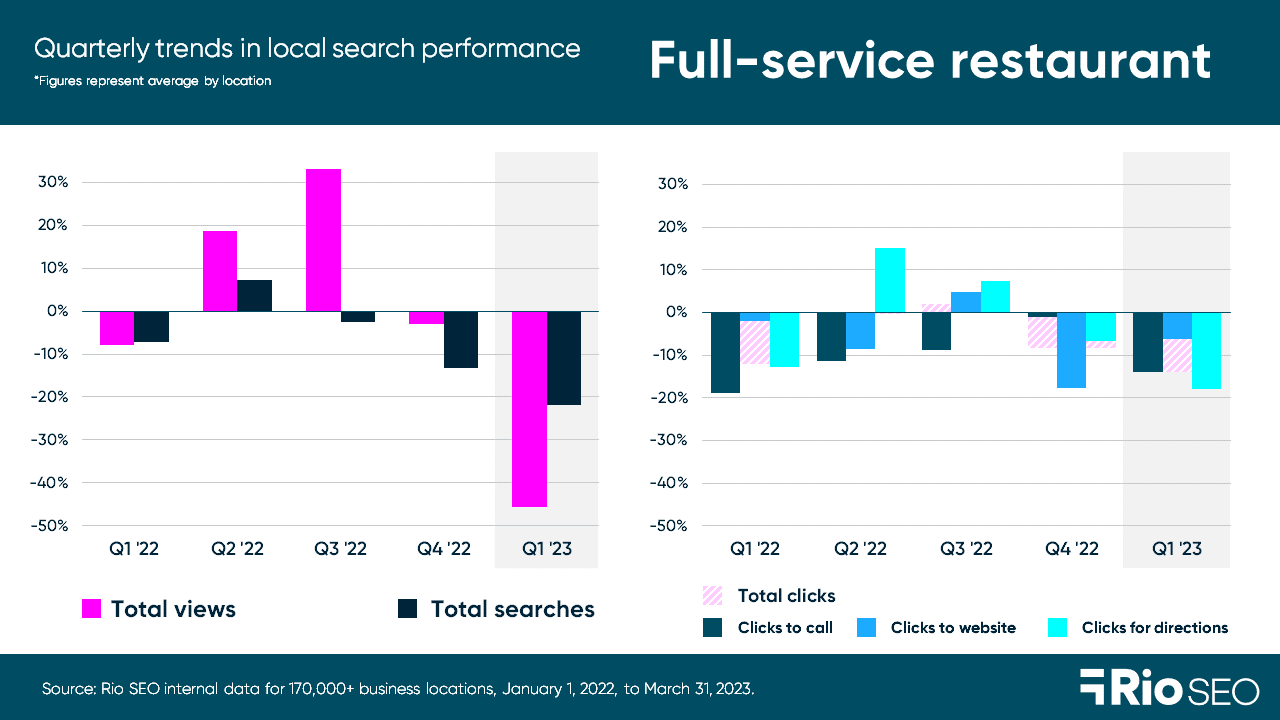 Total views were down 45.6% QoQ and 16.5% YoY in Q1 2023.
Total searches were down 21.8% QoQ and 29.6% YoY in Q1 2023.
Total clicks were down 13.9% QoQ and 19.6% YoY in Q1 2023.
Large drops in quarterly views and searches translated to smaller declines in conversion actions for restaurant brands, with clicks to call down 13.9%, clicks to website down 6.3%, and clicks for directions down 17.9% QoQ.
Sales growth performance dropped in March to its lowest point since July 2022. Both same-store traffic and sales fell slightly from January and February, according to Black Box Intelligence. However, in the same report, analysts point out that restaurants that improved their average star rating in online reviews saw traffic increase by 3% over three years. Those with a negative change in star rating also saw in-store traffic fall by 1%.
Restaurant brands and franchises need a technology solution to compile reviews in one dashboard, receive alerts to new reviews, manage review responses, and analyze review sentiment. It's important to maximize the value of consumer reviews by amplifying their impact with dynamic embeds on local pages, too.
Quick-service restaurants
Total views were down 45% QoQ and 27.8% YoY in Q1 2023.
Total searches were down 19.8% QoQ and 30.5% YoY in Q1 2023.
Total clicks were down 6.4% QoQ and 20.1% YoY in Q1 2023.
Quick-service restaurant conversions from Google local search listings continued their quarterly decline, though not to the same extent as in Q4 2022. In Q1 2023, clicks to call fell 14%, clicks to the website 0.8%, and clicks for directions 5.9% from the previous quarter.
Even so, Black Box Intelligence points out that fast casual and quick-service were the restaurant segments with the best in-store traffic results in Q1. Another analyst firm reported in early April that traffic in quick-service restaurants was approaching Q1 2022 levels when traffic was relatively high due to Omicron recovery traffic.
Quick-service restaurants can stand out in competitive local search listings and appear on more relevant searches by optimizing each location's GBP with attributes. This is Google's way of enabling brands to proactively provide information hungry diners often seek: curbside pickup or delivery, parking, accessibility measures, ownership values, and more. Attributes are a great tool for helping potential diners understand how the experience on offer in your brand's restaurant locations differs from local competitors. Learn how to make the best use of restaurant attributes here.
Hotels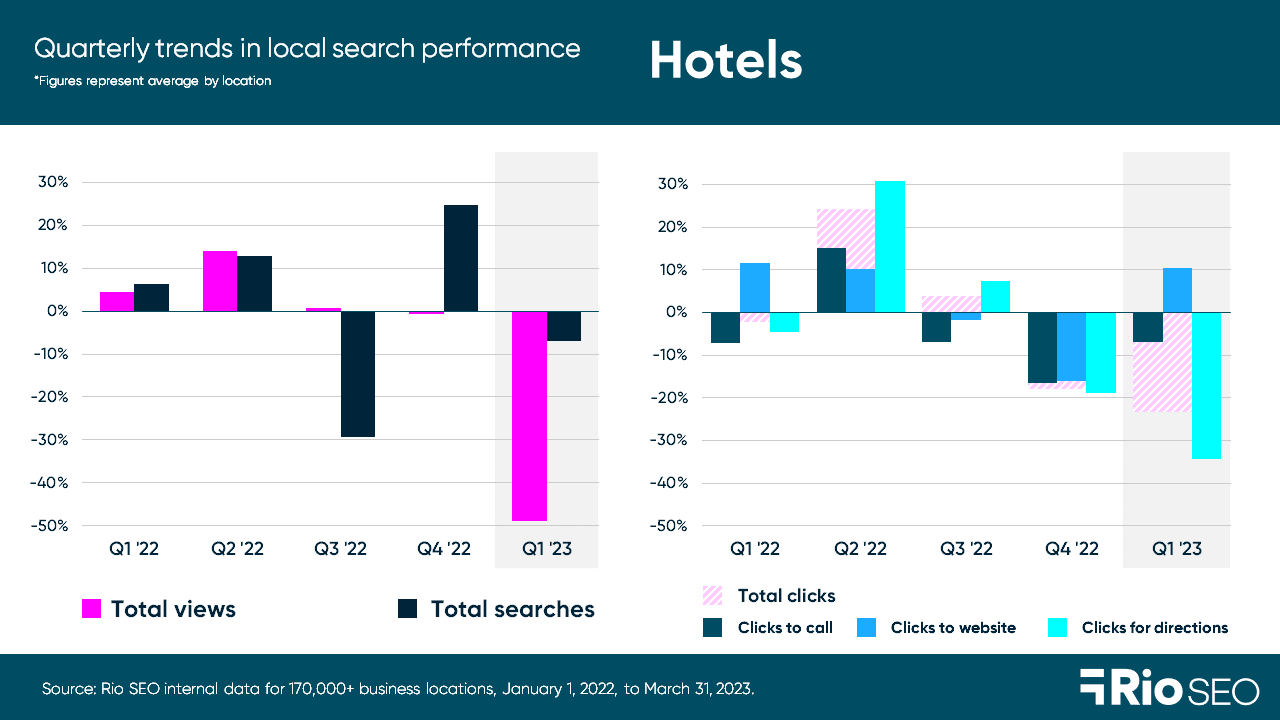 Total views were down 49% QoQ and 41.7% YoY in Q1 2023.
Total searches were down 6.9% QoQ and 7.4% YoY in Q1 2023.
Total clicks were down 23.3% QoQ and 18.8% YoY in Q1 2023.
Despite YoY drops in total searches (-6.9%) and search views (-41.7%) on GBP listings, the hospitality industry saw continued economic recovery in Q1 2023. Clicks for directions to hotels rose 10.4% QoQ and 0.3% YoY in Q1 2023, when occupancy rose 5.4% and revenue per available room grew 15.5%.
Hotels were among the hardest hit throughout the COVID pandemic, and US hotel bankruptcies spiked in 2021. However, the sector continues to exceed expectations with a Q1 2023 RevPAR 13% higher than in the opening quarter of 2019, and 17% higher average daily rates.
Online reviews are essential for hotel brands, where customers crave recent, unbiased information about the experiences they might have at any given property. Hotel brands can also use specialty pages to highlight information about on-site spas, restaurants, entertainment venues, and more, including showcasing first-party reviews on these pages. Whether business or personal, the traveler's experience often begins in search, and savvy hotel brands are boosting online visibility and bookings with local experience solutions built for the hospitality business. Learn more about crafting compelling local experiences for hotel searchers here.
Retail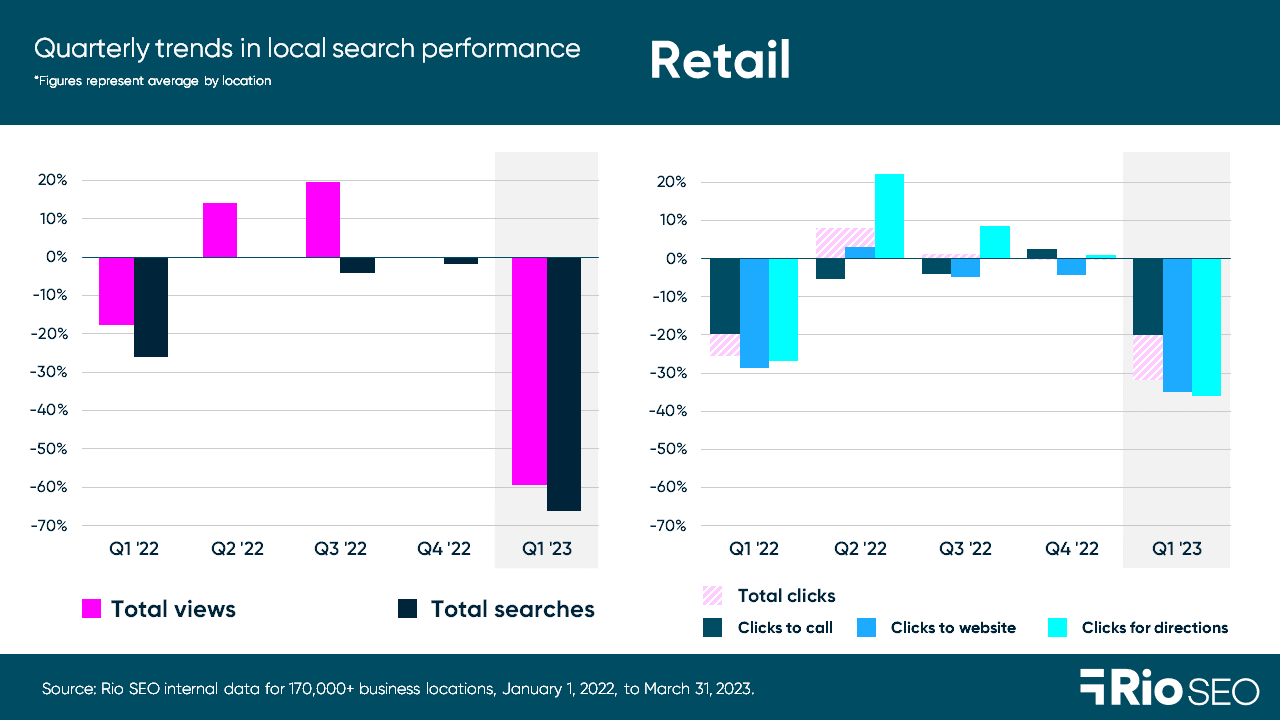 Total views were down 59.4% QoQ and 44.8% YoY in Q1 2023.
Total searches were down 66.2% QoQ and 68.4% YoY in Q1 2023.
Total clicks were down 31.8% QoQ and 25.4% YoY in Q1 2023.
Quarterly declines in search views, volume, and conversions are no surprise given the annual seasonal shopping trend. However, industry reports show that consumers continued to spend despite economic concerns and the impact of inflation in Q1 2023. U.S. retail sales grew 7.7% in January and 5.4% YoY in February, according to the U.S. Commerce Department. Executive sentiment is positive in the retail sector, as evidenced by the Business Roundtable CEO Economic Outlook Index.
Inflation-pressed consumers may be spending more with retailers they already frequent, making loyalty initiatives a great place to focus in the months ahead. Using SMS messages and emails for post-purchase follow-up, to request reviews, and sharing personalized offers and discounts on future purchases is one way to build local customer engagement in such an environment.
Discover more ways to personalize the local retail customer's experience in this free e-book.
Healthcare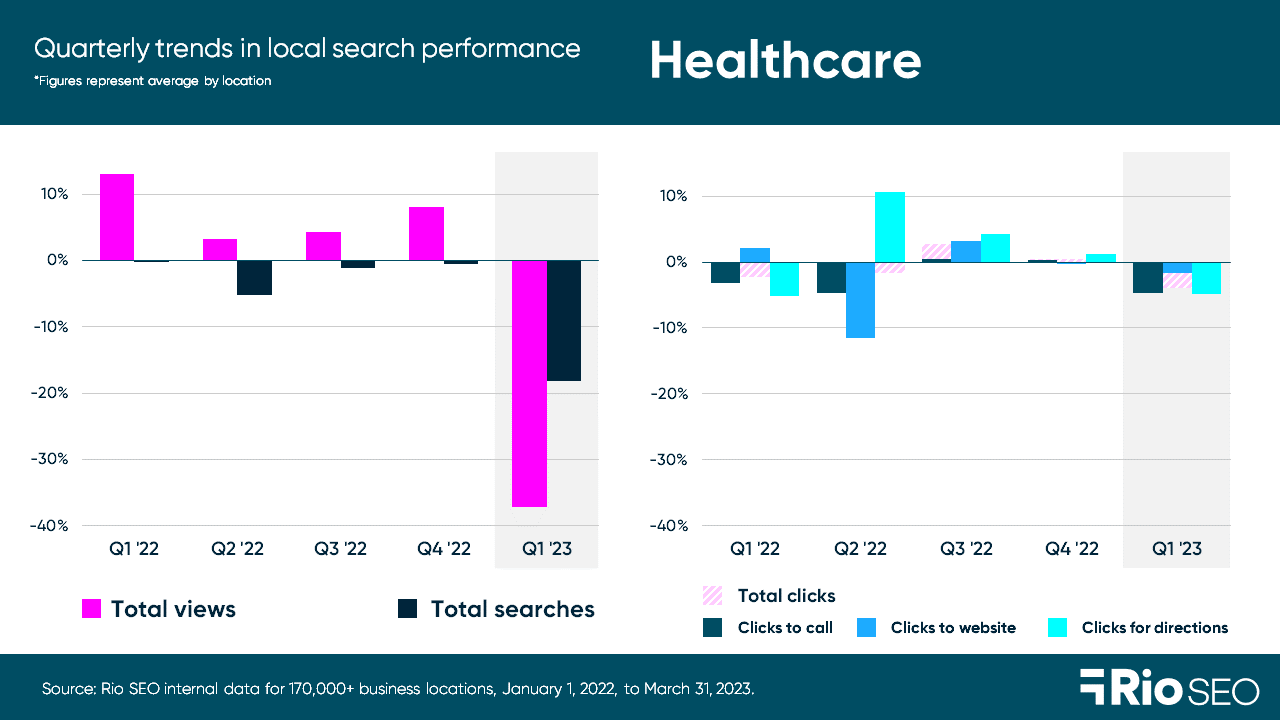 Total views were down 37.1% QoQ and 26.8% YoY in Q1 2023.
Total searches were down 18.2% QoQ and 23.6% YoY in Q1 2023.
Total clicks were down 3.9% QoQ and 2.3% YoY in Q1 2023.
Healthcare brands saw deep declines in search views both YoY and QoQ (-26.8% and -37.1%, respectively). Total searches fell to a lesser extent, while clicks to call, visit the website, or get directions to a location dropped by low single digits.
Listings accuracy and data integrity are essential in healthcare marketing, where Google classifies content as "YMYL" (Your Money, Your Life) and therefore subjects it to greater scrutiny. Outdated listings, incorrect contact information, and other misinformation in local listings negatively impact customer experience and can erode search engines' trust in the brand, as well. See how TPMG, a primary care and advanced specialties brand with over 220 locations, improved its citation accuracy from 57% to 99.4%, growing web impressions and patient feedback scores, as an example of the importance of a clean, accurate online profile.
From an experience perspective, consumer queries tend to be more complex and higher stakes than when they're searching for a restaurant or retail store. For example, they may be looking for a clinic that accepts their insurance, or a doctor that provides a certain type of therapy.
Healthcare brands should use all applicable attributes and ensure all relevant fields of each location's GBP are complete and optimized to improve search visibility and deliver the local search experiences patients expect. Read 4 research-backed SEO findings to guide your local strategy to find more ways to improve your healthcare listings.
Multi-family residential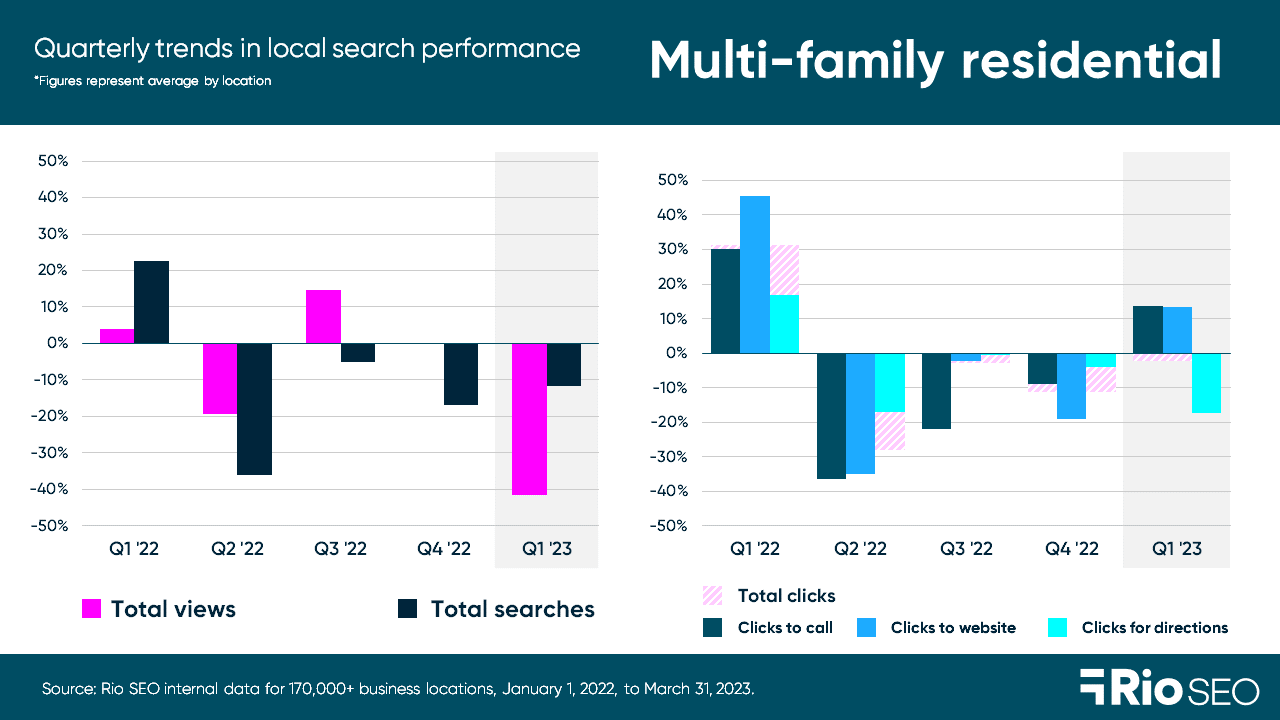 Total views were down 41.6% QoQ and 46.3% YoY in Q1 2023.
Total searches were down 11.6% QoQ and 55.5% YoY in Q1 2023.
Total clicks were down 2.2% QoQ and 39.4% YoY in Q1 2023.
Q1 2023 brought quarterly declines of 41.6% in search views and 11.6% local search volume. However, clicks to call rose 13.8% while clicks to website grew 13.5%, indicating that although their informational needs have declined, prospective tenants are still reaching out to engage multi-family residential businesses.
Average rents in the U.S. increased 6% YoY in Q1, still growing but at a lower rate than in 2022 (9.7%) and 2021 (12.7%). High interest rates, dwindling supply, and affordability constraints kept the housing market cool in the first quarter of the year.
Multi-family residential businesses are looking for efficiencies, and there are wins to be had in local marketing strategy by putting automation to work. Rio SEO's Local Experience Platform bridges the gaps between national and local to ensure local listings management, online reputation management, local pages, and insights reporting is always on, working to attract prospects each hour of the day, every day of the week.
Want to learn more? See our latest in-depth analysis of Google Business Profile trends by vertical, and catch our 2023 Local search ranking factors breakdown webinar on demand now for more insights to fuel your enterprise local marketing strategy.
---
Related resources
Interested in our solutions? Get in touch, and we can bring you up to speed.